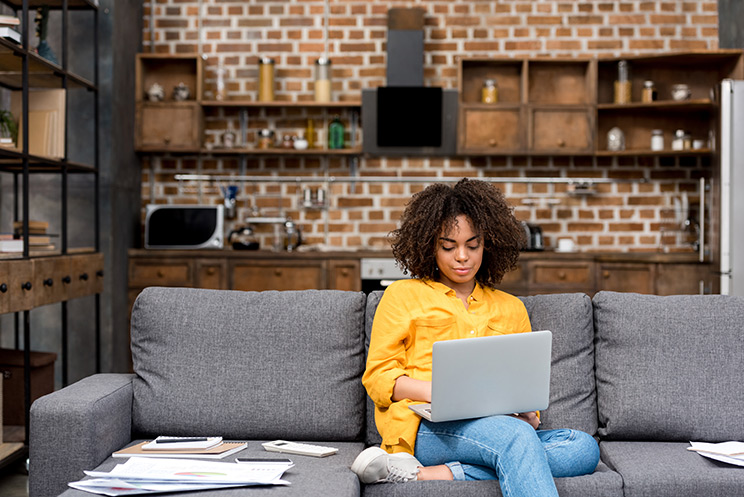 Mid America Mortgage, Inc., prides itself in our digital nature. Our executives encourage employees to use our technology to work in any of our 38 locations or from their home and up to 56% of our employees work remotely at least one day a week. With the increase in folks working from home or remotely due to social distancing recommendations, we wanted to re-issue this blog. The blog is meant to aid in creating an effective work-from-home routine. As a long-time remote worker and manager myself, it can be extremely effective. Productivity and production is monitored much the same way and there are so many tools available to connect you to your colleagues and your employees.
In terms of company culture, one topic I could talk endlessly on is work/life balance. From my own experience, I can say Mid America recognizes that family comes first, and we are proud to be able to provide support any way we can to help our employees make that balance work. That said, I also know the view from the top can seem skewed, and anything I say about the opportunities for work/life balance of my employees would sound cliché. With that in mind, I've asked my team for their views on the work/life balance which they've been able to establish, what they need to make it happen and why their situation works:
The most important thing is to keep a routine. I "go to the office" at the same time every day. I take a lunch break away from my desk and phone. When I "leave the office," I trust everything is done for the day, and I don't go back to work. When I am not "at work," I make sure to be present in my personal life.
If I start to feel tired or burnt out, I'll take my laptop to the dining room for a change of scenery. If the weather is nice enough I'll go outside for a few minutes, get some fresh air and think about what I'm thankful for. I drink at least a gallon of water every day and always have a refillable bottle or glass on my desk. Staying well-hydrated helps my ability to focus and maintain a good attitude.
For me, working from home starts the night before. I make sure I am in bed at the latest by 11 pm so I am well rested for the next day. Having a large, separate space set aside for work is probably the most important work at home advice I can offer; my office is in the back of my house so my space is separate, secluded and very quiet.
I think the most important thing to remember when working from home is to establish a normal routine just as you would if driving into the office. If you are not disciplined and cannot stay put and focus, you will not thrive in this environment.
Every day, I make sure my home is in order before I "leave." This way, when I go back into the kitchen to get coffee or go through the bedroom to go to the bathroom, etc., the "house to-do's" don't sidetrack me.
Almost every testimonial included the same piece of advice – keep a routine. In fact, many of my team members sent me their routines in detail. While the routines are as individualized as the person, the message came through loud and clear – keeping a routine allows for work/life balance to shine through.
Questions? Contact Mid America Mortgage, Inc. Today!